Workshop with Olena Lazutkina, Ukrainian artist and book producer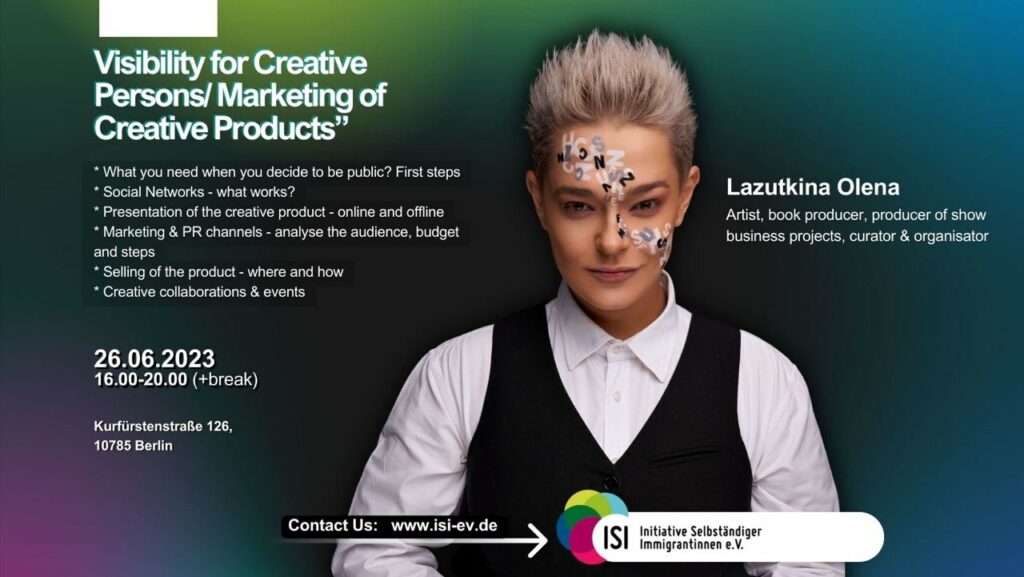 In the workshop "Visibility for Creative Persons/ Marketing of Creative Products" as part of our InspirationsLABOR  you will hear a lecture of best cases and inspiration.
What you need when you decide to be public? First steps

analyse your experience
analyse your audience
what you will have and what you will loose 
creating name of the brand

Social Networks – what works?

organise your time
make a schedule
good photos and videos
activity 

Presentation of the creative product – online and offline

what you need to present + expenses
creative presentation 
when you need offline presentation and what can it be 

Marketing & PR channels – budget and steps

marketing vs PR 
channels
how to create budget 

Selling of the product – where and how

promo in shops
creating the package of the product
be your brand

Creative collaborations & events

trend : Art 
little and VIP events 
Leading the workshop Olena Lazutkina, Ukrainian book producer, started her activity in Kyiv in 2004 with the opening of a bookstore. Then she received a higher education in marketing and headed the marketing department of the all-Ukrainian book network "Book Supermarket" (24 stores). In 2014, she opened her own publishing house "Brand Book Publishing", later renamed "Lazutkina Publishing House".
When: 26.06.2023
16:00 – 20:00 – with break
Location: Kurfürstenstr. 126, 10785, Berlin
at ISI e. V., 1st floor
Language: English